Canada
The Fairmont Banff Springs
Banff, Alberta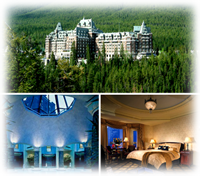 Few hotels in the world can rival the majesty, hospitality and scenery of The Fairmont Banff Springs. Its unique blend of opulence and seclusion has been a symbol of Rocky Mountain magnificence for more than a century. Styled after a Scottish baronial castle, The Fairmont Banff Springs offers stunning vistas, championship golf courses, unparalleled skiing, classic cuisine and Willow Stream, one of the top European-style spas in North America. Located in the heart of the Canadian Rockies, the hotel was originally constructed in 1888 when the Canadian government decided to build a transcontinental railway connecting BC with the interior of the country and the east. It has since become a glorious mountain haven offering a dazzling variety of activities for all seasons, including downhill and cross-country skiing, a 27-hole golf course, hiking, fishing, and a wealth of other exciting activities. And in Banff itself, a charming town where moose roam freely along the streets, you'll find local museums, specialty boutiques and galleries to explore.
Harrison Hot Springs Resort & Spa
Harrison Hot Springs, British Columbia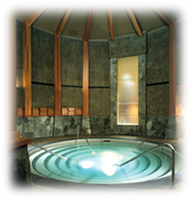 Bordering the breathtaking snowcapped mountains of the Pacific Northwest, Harrison Hot Springs Resort & Spa is a refreshing world of outdoor tranquility. Once a stopover on the legendary gold rush trails, this beautiful wooded shoreline has become a renowned Canadian getaway, 45 miles of glacial waters and 700 acres of woodlands, wildlife and waterways are yours to explore.
Relax your body, renew your spirit and enjoy one simple pleasure - life. When it comes to water, Harrison Hot Springs Resort & Spa really makes a splash. Soothe yourself in 8,000 square feet of indoor and outdoor natural mineral hot spring pools. Waterfalls. Fountains. Plus our special children's water park. Then discover Harrison Lake and the nearby Harrison River - a water lover's paradise, where you can feel the rush of boating on an open lake or the pull of a canoe paddle. Maybe you prefer an easier pace. Do a little fishing. Play some tennis. Watch bald eagles feast on spawning salmon. Golf is a nearby favourite. Finally, pamper yourself with a well deserved massage. Throughout the year, you can also enjoy numerous events from the village festival of the arts to our world-championship sand sculpture competition.
USA
Red Mountain Resort
Utah, USA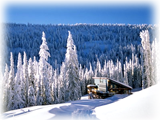 Surrounded by the majestic beauty of Utah's Red Mountains, this deluxe spa resort offers rest, rejuvenation, adventure, fitness and full-tilt pampering. Guests of every fitness level can experience the best in wellness programs and outdoor recreation, and the resort's gourmet cuisine will appeal to all. Spa services are equally extensive with special Signature treatments such as an ancient Anasazi Purification Treatment and Red Rock Therapy.
Attend daily classes and lectures taught by our friendly and knowledgeable staff. Training on topics such as health, fitness, nutrition, cooking, stress management, relaxation, anti-aging, mind/body and wellness classes educate and motivate our guests to learn and make life-enhancing changes that last much longer than their stay here.
Red Mountain is the perfect setting to start or renew your health and fitness goals. Our offerings include a wide variety of fitness assessments and programs to meet your goals. However you choose to spend your time here at Red Mountain, the peace and solitude of the facility, daily fitness activities, hiking and biking in Snow Canyon, gourmet spa cuisine and an array of wellness classes will set you on the path to lifelong fitness and health.
Let the Adventure begin!
Europe
Grand Hotel Margitsziget
Margitsziget - Budapest, Hungary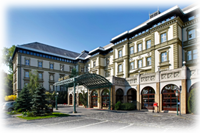 Margaret Island, where the thermal water was brought to the surface in 1866, is only 10 minutes driving from downtown. The island wedges gracefully between the Buda and the Pest sides of the Danube river and it is filled with flowers and trees. This surrounding is ideal to relax, refresh and renew the body and spirit. Margitsziget used to be known as "The island of Hares", and it was a royal game reserve 1000 years ago.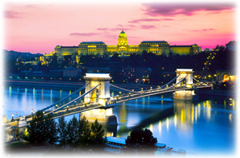 Our institution celebrated its 125 anniversary in 1998 with all the traditional atmosphere of the last century and the modern comfort of today's requirements. The hotel received a major "facelift" in 1987. It has 164 rooms and 10 suites.
The legendary Széchenyi restaurant serves international, dietetic and Hungarian menus. Now the "ancient" Grand Hotel is offering full therapy services like the Thermal Hotel Margitsziget, since an underground tunnel connects the two hotels. Under the direction of the spa physicians, a customized therapy plan is developed for each patient.
Danubius Thermal Hotel Héviz
Héviz, Hungary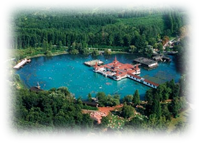 The hotel was built in 1976. It was completely refurbished in 1997. The institution has 210 guest rooms, and 7 air - conditioned suites. All the rooms have private facilities, direct dial phone, minibar and color TV. They are overlooking the lake or the park surrounding the hotel. There is parking for hotel guests. The Travel Desk in the lobby arranges excursions and programs. (The beautiful Festetich Castle at nearby Keszthely is also known for its world famous Helikon library. There are castle ruins in Sümeg, Tátika and Szigliget and it is worthwhile to visit the sights of the Balaton region.)
Danubius Thermal Hotel Sárvár
Sárvár, Hungary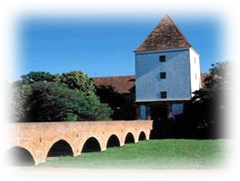 Sárvár, a small picturesque town at the border region of western Hungary, provides the ideal location for real relaxation. Beautiful countryside, the medieval Nadasky Castle, and a wide range of leisure activities, such as riding, tennis and cycling will make your holiday here a rich and memorable experience. The four-star spa hotel is located in the middle of a botanical garden and is surrounded by hundred-year-old trees with their ampleshade. Here you can find all you will need under one roof - from the full-service therapy centre through the restaurant to the beauty parlour.
The Hotel was completed in 1985, built in the middle of a 25 acre forest reserve (King's Garden). The Hotel has 136 rooms, all with private facilities, minibar, color TV and telephone. The restaurant serves Hungarian, international and dietetic menus.
Sárvár is endowed with two different thermal springs, one at 120oF (48oC) to cure rheumatic diseases, and the other at 196oF (83oC) with a high saline concentration for patients suffering from gynecological or respiratory diseases. The hotel has it's own Therapy Center, with a thermal pool, underwater jet massage, mud packing, electrotherapy, saline bath, inhalation therapy room, solarium, sauna and fitness center. A fully equipped and professionally staffed Dental Department provides all types of dental care. There is a riding school nearby, and tennis is also available.
Karlovy Vary Spa Resort
Karlovy Vary, Czech Republic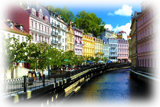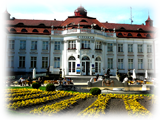 Legendary Karlovy Vary is the oldest and largest spa in the Czech Republic. According to legends, Emperor Charles IV. dicovered hot springs here around 1358. There are 12 hot springs in Karlovy Vary, containing 40 chemical elements that are used in treatment of digestive tract diseases and certain metabolic disorders. From the 19th century, famous visitors - like Beethoven, Goethe, Peter the Great, Paganini - came here for the water.
Mariánské Lázne Spa
Mariánské Lázne Spa, Czech Republic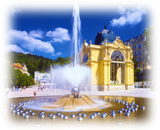 2 hours drive from Prague - is renowned for its wealth of natural medicinal sources. There are more than 100 acidulous mineral springs and natural gas in the area, 40 of them in the town itself. This charming spa city was founded in the 19th century. Many famous personalities and artists were among the spa guests over the years, like Mark Twain, T.A.Edison, and F. Chopin. Recently the town, the spa buildings and hotels underwent modernization and now they match up to the highest international standards.